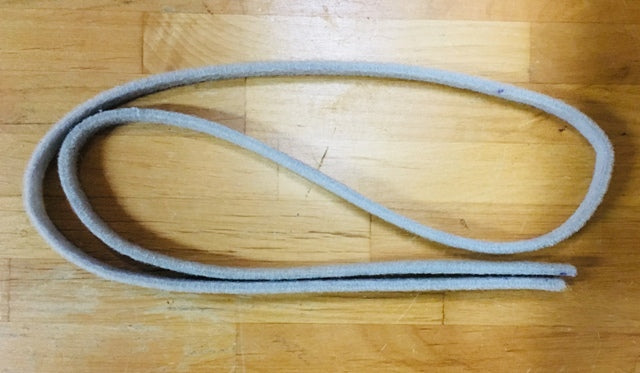 Brother/KnitKing/Singer/Studio/Silver Reed/Toyota
Brother Bulky 8 & Studio Model S-140 - 50 inch long- Knitting Machine Needle Retainer Bar
Brother Bulky 8 x 50" - Model S-140 x 50"- Knitting Machine Needle Retainer Bar. Replacement Felt Only.  For rebuilding your existing 1/8" wide (narrow) needle retainer bar. This material is a heavy duty felt material of the right thickness and density which is cut to width and slightly longer length than needed.Same size as our Bulky 8 retainer bar except longer length. It is intended as a replacement needle retainer bar material.
This difficult to find heavy duty felt material is the right size and consistency to replace the felt or medium your machine now has. All you need do is use the easy to follow and understand instructions.
Actual size of this replacement felt is 50"x3/8"x1/8". Other lengths and widths may be available for other knitting machines - contact us for special sizes and pricing.

Installing is as easy as removing the existing rubber or felt material from your metal bar, open the metal slot slightly to accommodate this material (which is already the correct thickness), then gently tap the metal closed on the new felt material and slide into place. Installed properly, our new needle retainer bar material should last for several years.

Comes with installation hints and felt material for rebuilding your existing needle retainer bar..
---
More from this collection